Revolting Ireland
Virgin Media One's major new factual series Revolting Ireland explores the social history of protest in Ireland as huge changes in Irish society were won and lost by street marches, major strikes and mass protest movements against the forces of state and church.
Revolting Ireland, produced by Sideline Productions, is the first ever Irish TV series that digs deep into the world of protest to reveal what, and who, contributed to building a modern Irish society – from one controlled by the Catholic Church to a more diverse and inclusive democratic nation today.
Revolting Ireland begins with the Suffragettes seeking votes for women in 1918 and ends with the Repeal the 8th victory a hundred years later. In a way the series also documents the gradual erosion of 'Rome Rule' as over the last 50 years restrictions on contraception, homosexuality, divorce, same-sex marriage and abortion were gradually opposed and eventually removed by a public vote.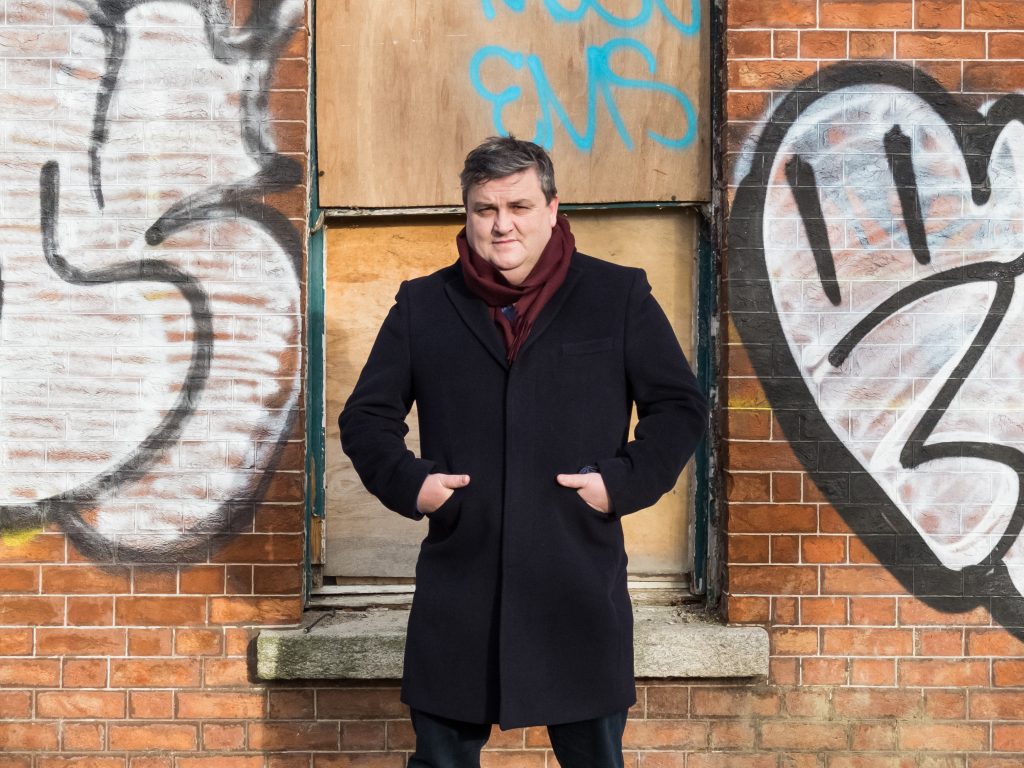 In this engaging and entertaining 4 part series presenter Simon Delaney (Tales of Irish Castles, The Good Wide, The Snapper) takes VM1 viewers on a journey to explore how modern Ireland emerged and developed socially, politically and culturally. The series was originally planned to air at the start of 2018 but the Repeal the 8th vote on May 25th seemed too much of an opportunity and, not only wraps up the 100 years of women's battle for civil and human rights, but also marks a seismic rejection of the teachings and to the power of the Catholic Church in Ireland.
While we open the series with The Suffragettes and the 1913 Lockout the main focus moves swiftly onto the 1950s as the nation came to grips with its early years as The Republic of Ireland. To inject commentary and insights we have interviewed an impressive range of people who all have personal views, opinions and mostly first hand experiences of the strikes, rebellion, marches, protests – and we also feature the role that both music and comedy impacted on social behaviour and protest.
Backed up by personal and historical archive, plus a related soundtrack, the content and personal comments from all four shows will influence and spark public debate as articulate interviewees from all walks of life offer their opinions and recount their first hand experiences as objectors.
So to open the series Bob Geldof, Marian Finucane, Jim Lockhart, Sam Nolan, Nell McCafferty, Eamon McCann, Joe Duffy, Sen David Norris, Mairin De Burca, Charlie Bird, Ruairi Quinn – along with historians Diarmaid Ferriter, Leanne Lane and Donal Fallon – look at the early years of protest as Irish people emerged from civil war politics and a new generation of teenagers in the 1950's and 60's embraced new social and political ideas.
Have a look at some of the contributors below:
To look at Ireland from the 1970's onwards Stephanie Preissner; Fiona Looney; Blindboy Boat Club, Betty Purcell, Mario Rosenstock, Billy Bragg, Arthur Matthews, Lise Hand, Tonie Walsh, Terri Hooley, Damian O'Neill, Sindy Joyce, the Dunnes Stores Strikers, Colm Roddy, Adrienne Murphy, Luke Ming Flanagan, Clare Daly, Joe Higgins, Rory Hearne, Gerry O'Carroll, Susan Daly, Mark Malone, Paul Murphy, Brendan Ogle, Henry McKean, Willie Frazer and more all contribute in an honest and often surprising exchange of ideas, opinions and viewpoints. All guests were filmed individually at a specially lit sound stage in Dublin.
Revolting Ireland is funded by The Broadcasting Authority of Ireland with Section 481 the Irish tax incentive for Film and TV production.
Credits – Series produced and created by Billy McGrath. Producer Eoin Sweeney. Writers/Directors Billy McGrath & Luke McManus. Production Manager Claire Power. Assoc. Producer Matt Stapleton. Asst. Producer Michaella Walsh. Editors Sarah Armstrong and Michael O'Sullivan. Camera Ken O'Mahony. Sound Gregory Dunn. Graphics Marc Sherwin. Post-Production Hi Wire. Online Editor Mark Quinn & Post Production Supervisor Mike Manweiler Quinn. Sound Mix Killian Fitzgerald (Avatar Audio). Exec Prods Aoife Stokes and Frank Agnew (VMTV).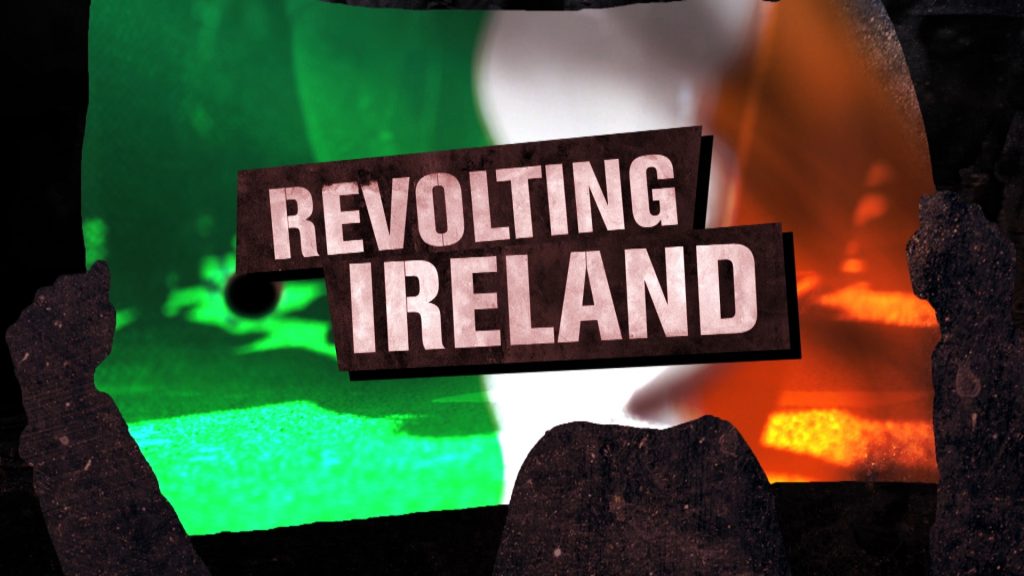 Brief Series Breakdown
Episode 1 – from Suffragettes to Bloody Sunday:
The first episode of this major social history series looks at how protest changed Ireland through the decades after the formation of the Irish Republic in 1949. Subjects include The Suffragettes; Jim Larkin and the 1913 Lockout: 1950's unemployment and housing protests in Dublin; Harry Corduff and his battle against potholes in Mayo; The Anti-Apartheid Movement and the fight for Civil Rights in Northern Ireland leading to Bloody Sunday & the burning of the British Embassy in Merrion Square in Dublin. The show also explores the rise of the Student Radicals who were sparked by protest music and TV images of social unrest in America and Paris.
Guests include Sam Nolan; Leeane Lane: Bob Geldof: Mairin De Burca; Diarmaid Ferriter: Eamon McCann; Donal Fallon; Marian Finucane; Ruairi Quinn; Jim Lockhart; Charlie Bird: Nell McCafferty and more
Episode 2 – from Women's Lib to the Dunnes Stores Workers
Ireland is now waking up in the 1970'sand more aware through radio and TV of the outside world. Sex is the battleground as The Women's Lib Movement; The Contraceptive Train and the fight for Gay rights begins. Whilst punk rocked the mainstream, Wood Quay, Anti-Nuclear and PAYE protests top the charts whilst civil rights for Irish Travellers continued. Add to the mix The Hunger Strikes, The Battle of Ballsbridge, Concerned Parents Against Drugs and The Dunnes Stores workers.
Guests include – Blindboy Boat Club, Betty Purcell, Mario Rosenstock, Marian Finucane, Billy Bragg, Joe Duffy, Arthur Matthews, Lise Hand, Tonie Walsh, Terri Hooley, Damian O'Neill, Sen David Norris, Sindy Joyce, The Dunnes Stores Strikers and more
Episode 3 – From Reclaim the Streets to The Battle of O'Connell Street
It's time to fight against developers and save the environment. With The Glen O'Downs and Reclaim the Streets battling against motorways and cars, Keep Rovers at Milltown (KRAM) was a field battle worth fighting for. In Mayo Shell to Sea saw aggressive tactics against protestors while the two main political parties were losing ground to the new independents. Globalisation brought us G8, No To War and Shannon Airport protests against US troops whilst the Orange marches at Drumcree headed south to O'Connell Street for a Love Ulster 'family celebration' that exploded into mass carnage, street battles and millions of euros of damage.
Guests include – Colm Roddy, Adrienne Murphy, Luke Ming Flanagan, Clare Daly, Joe Higgins, Rory Hearne, Fiona Looney, Gerry O'Carroll, Susan Daly, Mark Malone, Paul Murphy, Brendan Ogle, Henry McKean, Donal Fallon, Willie Frazer and more
Episode 4 – From the Bail Out to Repeal the 8th
We were all so rich in the 00's there was no need to protest! Even when The Boom crashed, the Irish were too traumatised to take to the streets. But slowly we fought back in 2010 with the students leading the way: the OAP medical card protest beat the government and on TV3 Vincent Brown stalked the airwaves and twitter in anger! Then Ballyhea Said No, the Occupy Movement kicked in; Water Charges were opposed and the nation was divided over Repeal the 8th.
Guests include – Bob Geldof, Mairin De Burca, Blindboy Boat Club, Diarmaid Ferriter, Betty Purcell, Mario Rosenstock, Joe Duffy, Brendan Ogle, Susan Daly, Rory Hearne, Paul Murphy, Sen David Norris, Henry McKean, Charlie Bird and more