Blog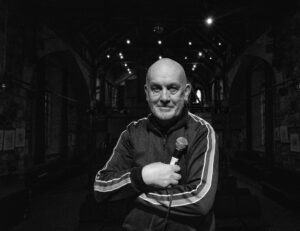 GUSTO live Friday Feb 17th Town Hall Theatre (see link) https://tht.ie/3934/billy-magra-gusto and Saturday Feb 18th at the Record Room @ The Commercial, Limerick
Blah Blah PR below
GUSTO explores how one Old Age Punk survived a world of sex, Irish dancing, drugs, Sean-Nos singing, and rock'n'roll – and lived to tell the tale.
In the early 1980s, Billy (McGrath) Magra was Ireland's only 'alternative' comedian performing solo shows; opening Ireland's 1st comedy clubs plus guesting with Status Quo, Warren Zevon, Paul Brady, and The Flying Pickets. The latter asked him to tour the UK with them in 1984 but he chose to train as a TV producer. Google him or www.sideline.ie. Over the last 40 years, Billy has emerged as one of Ireland's creative trailblazers winning awards and audiences for Stage, Radio, TV and Film projects in Ireland and across the globe. He also opened Limerick's 1st rock club (1977) ; managed PR for the Galway Arts Festival (1991/92); won the National Entertainment Award for Comedy (1992); co-managed Ireland's 1st stand-up superstar Sean Hughes and directed videos for Italia 90's 'Put 'Em Under Pressure'; Clannad's 'Harry Game' and The Pogues 'Fairytale from New York' (LIVE). His last film Citizens of Boomtown (the story of The Boomtown Rats) premiered at the 2020 Dublin Film Festival and was broadcast worldwide.
But GUSTO also explores a personal journey. During his school days, Billy suffered from a serious stutter but he overcame it to become an award-winning student debater and actor. Later he juggled a successful career as a son; brother; husband; father; separated; single dad with one son; father again; single dad with two sons; an orphan; divorced; husband again; and father again, again, and again. With such a rollercoaster private life, laughter was a lifeline.
During the lockdown, Billy re-ignited his passion for writing and comedy. He graduated in 2021 with a 1st Class Hons MA in Screenwriting from the National Film School (IADT), and along with a slate of screen projects, he also decided to write a new one-man show. Not for fame or fortune but to explore the age-old question …..What do you want to be when you grow up?  When you reach the age of 66 you may have 20/30 more years to live. An ex-League of Ireland soccer player with UCD, Billy has hung up his boots and won't be climbing the Himalayas soon but instead GUSTO will debunk the belief that 3rd Act actors should bury their dreams or become invisible, So he's strapping on the comedy guns again, this time firing real bullets. He is angry at the way society downplays senior citizens.
'We are a generation that grew up in the swinging 60s and the sexy 70s! We could roll a 5 skinner in 20 seconds but near election time all the government can do is increase the pension by €5! We are mainly healthy, sometimes wealthy and often wise. We have no interest in gardening, knitting or watching the world go by. While millennials walk around as if they rent the place, it's time for an OAP Revolution. Be there or be somewhere else'.
With a personal slide show and innovative comic narrative, catch GUSTO with Billy Magra at the Town Hall Theatre Galway (Fri Feb 17th) & The Record Room, Limerick (Sat Feb 18th).
Note – Adult children are encouraged to bring their parents. 
"Extremely funny, most imaginative," (The Irish Times)
"There are pioneers … and there's Billy McGrath" (Hot Press)