Blog
RTE Radio 1 and Sideline Productions are pleased to announce COMEDY SHOWHOUSE 2018 starring Deirdre O'Kane, Colm O'Regan, Rose Henderson, Tara Flynn, Paul Tylak and Caitriona Ennis.
Now in its 3rd year, the 6-day festival takes place at the Project Arts Theatre in Temple Bar Dublin from Monday April 30th to Saturday May 5th 2018.
This year though there will be one major gap in the programme. For the last two years the late and great Sean Hughes hosted the ever-popular panel series Don't Quote Me! Due to his sad passing in October 2017 – and as a mark of respect – the show has been cancelled permanently. A minute's applause will be held in Sean's honour on the 1st and final nights of the 6-night run.
PROGRAMME 2018
Monday April 30th, Tuesday May 1st and Wednesday May 2nd.
The pilot for Fiona Looney's sketch series WAITING proved such a hit last time that at the end the audience stood as one in a standing ovation. The show has now been supersized as a 6-part series recorded over 3 nights. Starring Dancing with The Stars finalist and IFTA winning Deirdre O'Kane (also Moone Boy, Noble); award winning stage actress Caitriona Ennis & one of Ireland's most coveted comedy actresses Rose Henderson.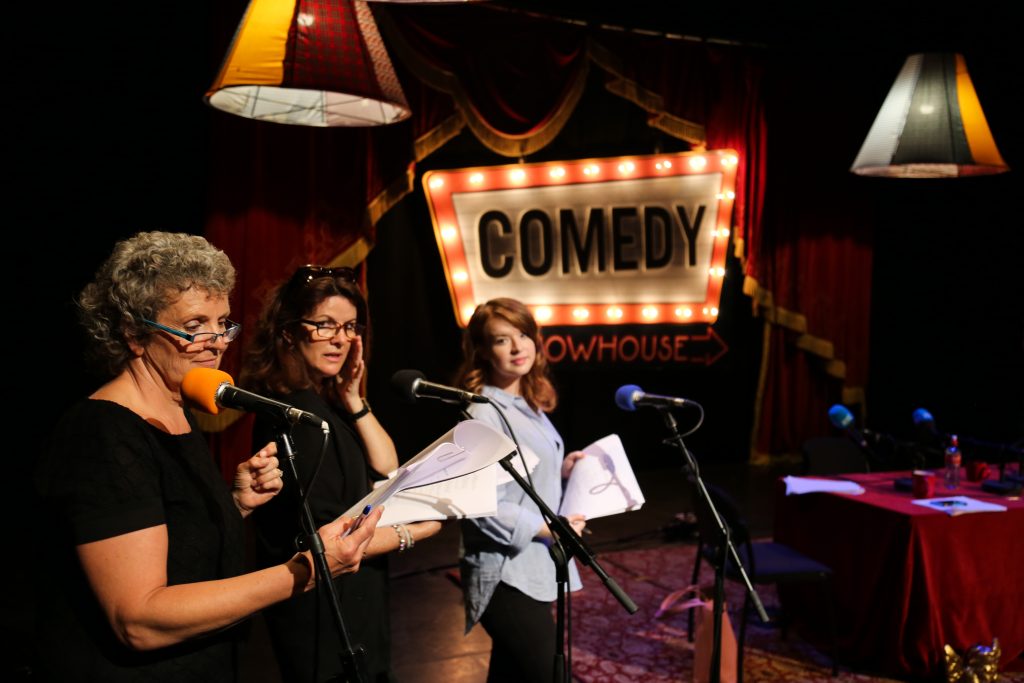 WAITING will be performed live on Monday April 30th, Tuesday May 1st and Wednesday May 2nd. Note there are new shows every night and 6 half hours recorded over the 3 nights.
The industry buzz around WAITING has been so strong that after Comedy Showhouse, plans include a TV pilot in Autumn, live Irish tour in Spring 2019 and the Edinburgh Festival in Summer 2019. Tickets are only €11 at www.projectartscentre.ie. More on WAITING below.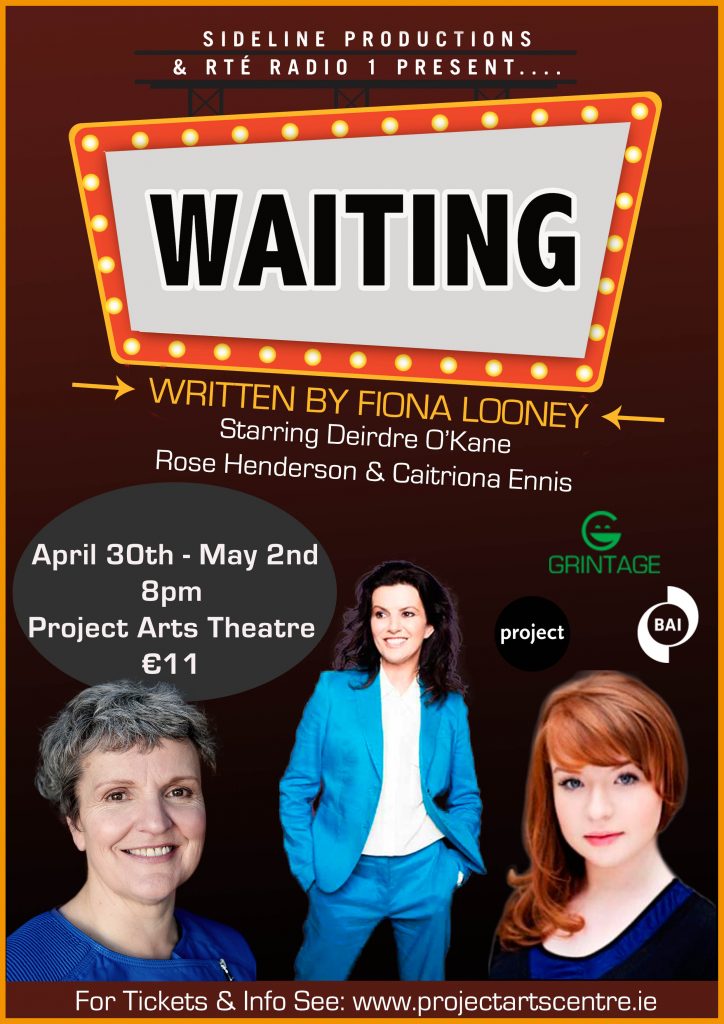 Thursday May 3rd, Friday May 4th and Saturday May 5th 
COLM O'REGAN WANTS A WORD is a satirical and funny tour around the brain of Colm O'Regan as he talks about one of his favourite subjects – our use of language. It's not much new radio shows that can win Ireland's Best Comedy in its first 2 years but CORWAW proved to be a real comedy gem. With stand up, sketches, news reports and show guests, the live show not only won the Irish PPI Award for Best Comedy in 2016 & 2017 but also scooped The Celtic Media Award 2017 beating rivals from Scotland, Wales and NI.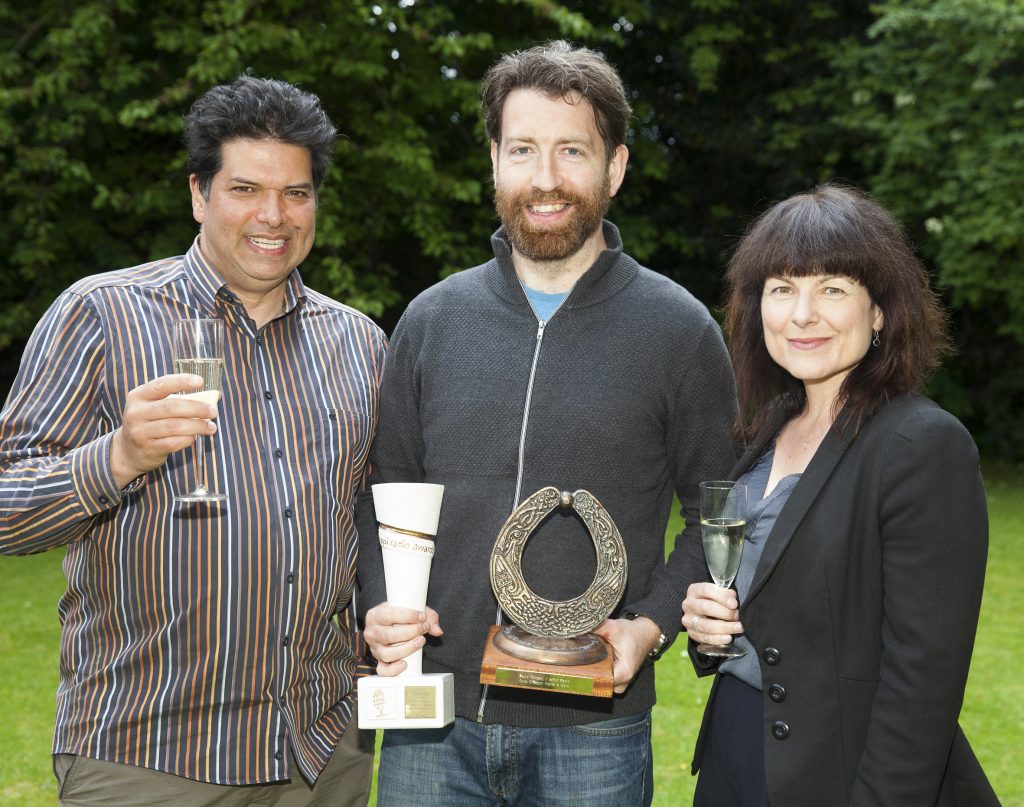 The show – starring comedy actors Tara Flynn and Paul Tylak with very special guests – makes a welcome return and this time featuring themes such as Property, Age, Travel, Weather, Shopping and Technology. Note there are new shows every night and 6 half hours recorded over the 3 nights.
Tickets again are only €11 at www.projectartscentre.ie. More on CORWAW below.
Saturday afternoon May 5th  3pm
To further boost the writing skills and production of new radio comedy RTE Radio 1 and Sideline Productions sought out new scripts for the 1st ever Radio Sitcom Trials. Successful writers will be announced by April 19th and have their scripts performed by professional actors in front of a live audience on Saturday May 5th 2018 in the Project Arts Theatre Dublin. Admission is free.
Comedy Showhouse is produced by Sideline Productions for RTE Radio 1 in association with The Broadcast Authority of Ireland and comedy website grintage.com.
MORE ON WAITING
LIVE Monday April 30th, Tuesday May 1st and Wednesday May 2nd 8pm
Fiona Looney is one of the most successful comedy writers in Ireland – stage, print and screen – and has always been impressed by women's ability to talk to strangers plus discuss anything but the subject at hand. It's when they find themselves in waiting situations that these extraordinary – and occasionally bizarre – talents really come to the fore. So what is this sketch series all about? First let's ask a question.
What do women do more than men?
What regularly brings women into contact with complete strangers and even more random conversations? They wait.
This innovative 6 part comedy series is all about the act – and the art – of waiting!
Women wait for medical appointments, for parent-teacher meetings, at family planning clinics, at bus stops, in changing rooms. They wait for friends, they wait for coffee, they wait for new-borns, they wait to dispatch the dead – and while they wait, they talk about anything and everything.
WAITING is also very much a humorous look at the lives of Irish women and with spoof ads, sketches and easily recognisable situations the shows are very, very funny.
MORE ON COLM O'REGAN WANTS A WORD
LIVE Thursday, May 3rd, Friday, May 4th and Saturday, May 5th 8pm
In each episode, Colm will be 'wanting a word' about a variety of topics.
With the aid of stand up, radio archive, studio guests and comedy sketches, the comedian, BBC Radio 4 presenter, star of Kilkenomics and best-selling author of Bolloxology and the 'Irish Mammies' series – once again unpicks the little linguistic foibles that characterise this wordy nation of ours.
COLM O'REGAN WANTS A WORD builds on the success of his two shows in 2016 and four shows last year by writing and performing a full 6-part series for 2018.
Every show is very simple and fresh in its execution. Colm chooses a broad theme to play with and with stand-up material, spoken word, a guest expert and sketches performed by two brilliant comedy actors Paul Tylak and Tara Flynn he sets out to dismantle and explore in a comic way how we talk about the world of e.g. this time the shows are about Property, Age, Travel, Weather, Shopping and Technology.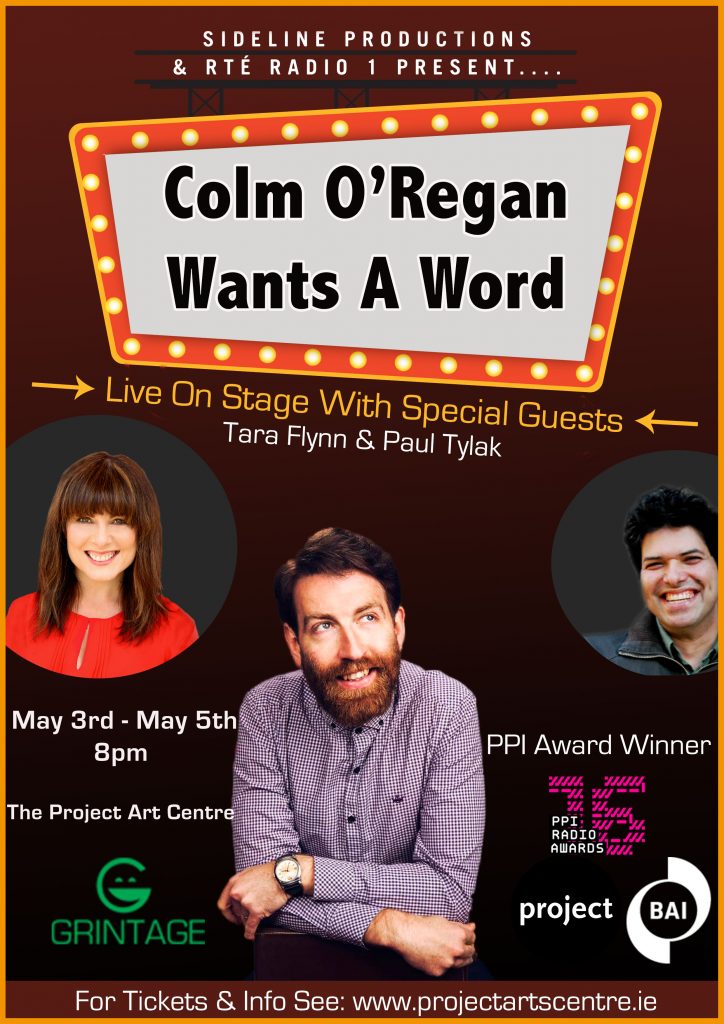 NB WAITING and CORWAW – each night features brand new shows.  
All tickets €11 at www.projectartscentre.ie or the box office.
TALENT 2018
DEIRDRE O'KANE
Who would have bet against Deirdre dancing away with the glitter ball trophy as winner of RTE's Dancing with the Stars 2018! She made the final and now returns to the stage as one of Ireland's finest comedy actresses as part of the all-star cast of WAITING! A six-time Irish Film and Television Awards (IFTA) nominee, Deirdre was awarded Best Lead Actress (Film) 2015 for her role as Christina Noble opposite Liam Cunningham, Sarah Greene and Brendan Coyle in Stephen Bradley's feature Noble.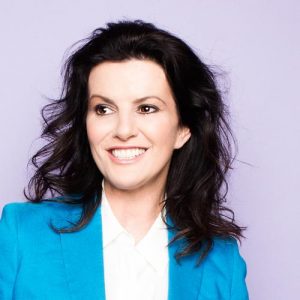 Released in September 2014 Noble won Jury and Audience awards at the Boston Film Festival, Santa Barbara International Film Festival, Newport Beach Festival, Nashville and Dallas Festivals.
Other feature film credits include the BAFTA winning Festival for Channel 4, Intermission directed by John Crowley for Parallel Fims, Killing Bono directed by Nick Hamm for Cinema Three and Dollhouse, directed by Kirsten Sheridan for Factory Films.
Deirdre's television credits include Paths to Freedom (RTÉ) in which she played Brendan Coyle's long-suffering wife Helen, The Clinic, Fergus's Wedding, The Fitz, and Bittersweet. She recently appeared in the leading role of Debra Moone in her third series of Moone Boy (Sky) opposite Academy Award Nominee Peter McDonald and Chris O'Dowd and which garnered Deirdre her fifth IFTA nomination in 2014.
Theatre credits include Mary in Juno and the Paycock (the Abbey), Miss Funny in At the Black Pig's Dyke (Druid Theatre) Daphne in Present Laughter (Gate Theatre), Jean in two sold-out runs of Dandelions at the Gaiety Theatre for Landmark Productions, and her acclaimed performance in the one-woman show My Brilliant Divorce (Druid).
Deirdre most recently hosted the 2017 Irish Film and Television Academy Awards, which was broadcast on RTÉ.
CAITRIONA ENNIS
Acting since childhood, she training at DADA, Dublin Academy of Dramatic Arts. While in UCD Dramsoc Caitriona played the part of Betty in A Whistle In The Dark for which she won the ISDA Award for Best Actress (2011), and Dzina in A Couple of Poor Polish Speaking Romanians (nominated for best actress, ISDA 2010).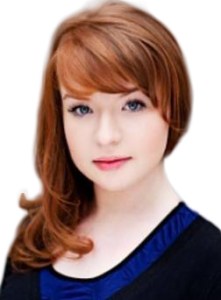 Since graduating from UCD in 2012 with a Masters in Performing Arts, Dubliner Caitriona has been causing quite a stir on the theatre scene. Caitriona went on to work with Louise Lowe's ANU Productions in 2012, starring in Taking To The Bed (Phizz Fest) and The Boys of Foley Street (Dublin Theatre Festival 2012) for which she was nominated for Best Actress in the Irish Times Theatre Awards 2013.
Caitriona performed as part of ANU'S THIRTEEN where she was nominated for a Dublin Fringe Award 2013. She is a founding member of the We Get High On This Theatre Collective, who have toured Ireland with their production of Caitriona Daly's Sluts, in which Caitriona played the part of Amy. Sluts also performed in the Edinburgh Fringe (2011) and the 10 Days in Dublin Festival (2012).
Other theatre credits include Joan in The Lark(Fast Intent, Smock Alley) Ciara in NARF by Caitriona Daly, Text Messages (Project Arts Centre), The State Commemoration (ANU Productions), and Annabelle's Star by Raymond Keane and Mary McNally (The Ark). Caitriona filmed with Paul Mercier starring as Sarah in We Ourselves. Caitriona recently appeared in Anu Theatre Company's production of Angel Meadow in Manchester directed by Louise Lowe.
In late 2014 Caitriona appeared in Spinning by Deirdre Kinehan, directed by Jim Culleton for Fishamble Theatre Company at Dublin Theatre Festival 2014 for which she was nominated for a Best Supporting Actress Award in the 2015 Irish Times Theatre Awards.  In 2017 she was nominated for her third Irish Times Theatre Award for Best Actress for her one-woman show, Test Dummy plus selected as one of Ireland's future Oscar winners.
ROSE HENDERSON
Rose Henderson is perhaps best known for her performance as Sister Assumpta in Father Ted, and as the Daniel O'Donnell groupie in the Energia Gas Boiler safety ad.   After six years in children's' programmes in RTE, she wrote and performed comic material on Nighthawks and "Ruby Tuesday" was her first stage play. She spent two years playing Val in Fair City, played the lead in the Gaiety Panto "Snow White" and toured extensively with "Weighing In" by Ger Gallagher. She played Marie in "You Don't Bring Me Flowers" with Katherine Lynch at the Tivoli, and Bernie in Isobel Mahon's "Boom".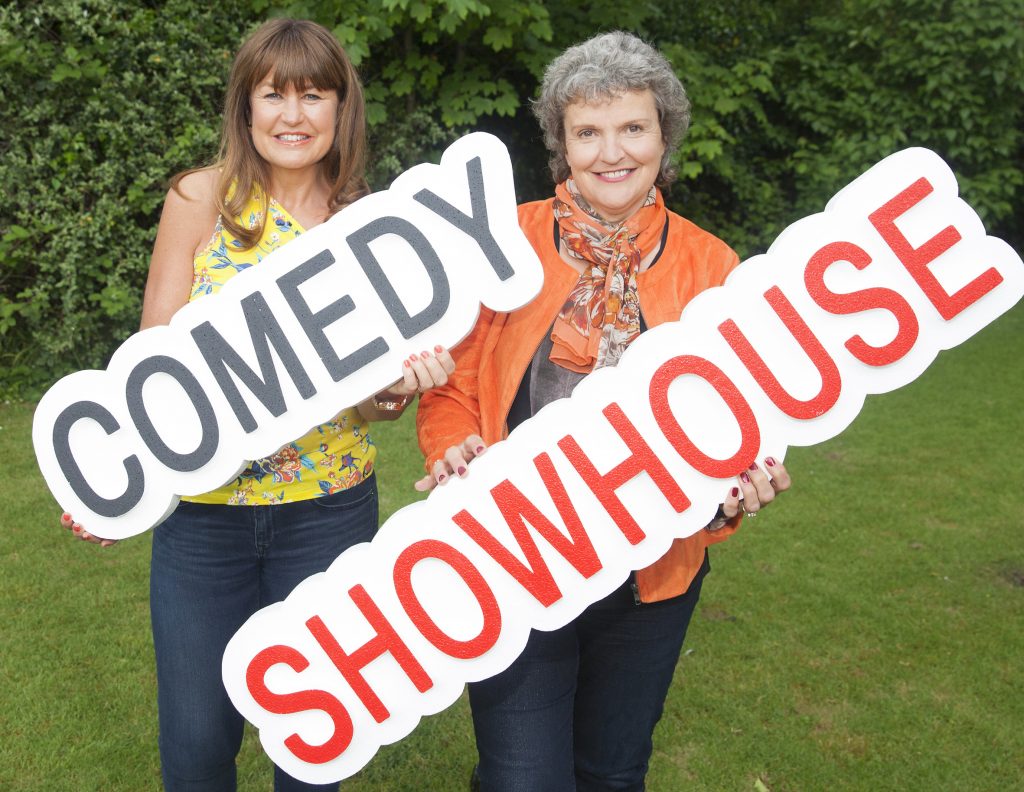 Coming up, Rose will be performing in "The Blow-In" a TV comedy by Alison Spittle for RTE; "Waiting" by Fiona Looney with Deirdre O'Kane and Caitriona Ennis for Comedy Showhouse on RTE Radio, and currently working on a new play for the Dublin Fringe Festival (to be announced in July).
COLM O'REGAN
Comedian, bestselling author and broadcaster, hailing from the small Co. Cork village of Dripsey, Colm O'Regan has stood up and made people laugh all over the world.
Colm's debut book Isn't It Well For Ye, The Book Of Irish Mammies was a bestseller and nominated for the Irish book awards. Its warm and funny observations are a hit with people of every gender, age and background and sprang from the equally successful @irishmammies twitter account which Colm authors. Set up in early 2012, the account has more than 220,000 followers making it one of the top 30 accounts in Ireland.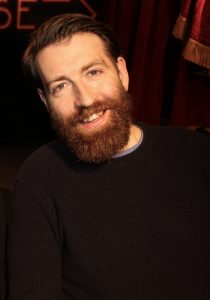 His comedy festival appearances include the prestigious invite-only Montreal Just For Laughs, the Kilkenny Cat Laughs, Electric Picnic and many, many more. He has played all over Ireland and the UK and even as far away as Cape Town, Tokyo and Osaka and appeared on The Late Late Show.
Colm has a long and growing list of TV and Radio writing and performing credits and also writes a weekly column for Cork's largest news and lifestyle weekly 'The Cork News and has written for The Irish Independent, the Irish Times, The Sunday Times, The Sunday World and the Examiner.
Colm is much in demand as an MC and awards ceremony host having kept audiences entertained at events as diverse as the Business Start Up Awards, I Love Radio and he was also the audience warm-up for the recording of Mrs Brown's Boys in Glasgow.
TARA FLYNN
Originally from Kinsale, Co. Cork, Tara has spent most of her career in Dublin, working extensively as an actress in theatre, radio and TV in Ireland and the UK.
She came to international acclaim in 2013 for her satirical video The Racist B&B, for which she was named Satirist of the Year at the Swift Satire Festival. In 2014 Armagayddon – a marriage equality PSA co-written by Kevin McGahern in association with LGBT Noise – went viral, having had over 400,000 views to date.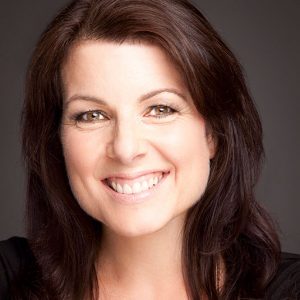 Tara was a founder-member of comedy singing trio The Nualas, and subsequently became a core member of Dublin Comedy Improv. With the Improv and as a stand-up comic, she performed all over Ireland & Britain and at festivals around the world, including Edinburgh Fringe and Melbourne International Comedy Festival. She played Caoimhe in Davin, a feature film by Irish director Graham Jones and voiced Hazel in the UK release of animated feature Two by Two.
Most recent TV includes Irish Pictorial Weekly (RTE), and Line of Duty (BBC). Other TV work includes Moone Boy (Sky 1), The Mario Rosenstock Show (RTE), Stew (RTE), Thank God You're Here (ITV), The Omid Djalili Show (BBC), The Impressions Show with Culshaw & Stephenson (BBC), Doctors (BBC), and the BAFTA nominated Stewart Lee's Comedy Vehicle (BBC). She played Siobhán in Hide & Seek (RTE, directed by Dearbhla Walsh), IFTA-nominated for Best TV Drama.
She has appeared in numerous radio plays and series for RTE & BBC Radio Four (most notably Baldi with David Threlfall, written by Barry Devlin and I, Regress written by & starring Matt Berry.) her Funny Bones piece for R4 "Fete Worse than Death" aired in November 2015. She played Suzy Bernstein in I Do Not Like Thee Dr. Fell at the Abbey Theatre, Dublin and the title role of Molly Wobbly at the Lyric, Belfast. Having had a sold out run of Geraldine Aron's one-woman play My Brilliant Divorce at the Viking Theatre, the show toured in 2014. She played Miss Fitt in Out of Joint's production of Samuel Beckett's All That Fall directed by Max Stafford-Clark.
Tara is the author of Irish bestsellers You're Grand: the Irishwoman's Secret Guide to Life (Hachette Books Ireland 2014) and Giving Out Yards: the Art of Complaint, Irish Style (Hachette). She is a regular contributor to radio & TV discussion panels and has a weekly column on Headstuff, and a monthly Talking Point column in Irish Tatler.
Most recently she wrote and performed her one-woman show Not A Funny Word to sell-out crowds at the Abbey Theatre's Peacock space.
PAUL TYLAK
Paul was recently seen in the culture-clash comedy movie Halal Daddy as Jamal Aziz, the doting uncle of Raghdan Aziz (Nikesh Patel) and brother of Amir Aziz (Art Malik). Paul has also played DJ Gerry Mandarin in the RTE comedy Nowhere Fast, been Dr. Rashid in Roy for BBC TV, and was Mr. Chandrasekhar in Moone Boy for SKY Television.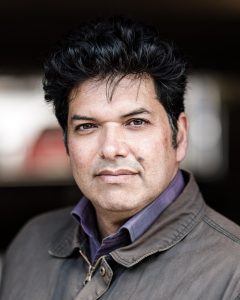 Paul wrote and appeared in Be More Ethnic, a half-hour drama comedy for BBC 3, about an Indo-Irish actor pigeon-holed into stereotypical "ethnic" roles. In 2006, Paul featured in RTE 6-part drama Prosperity, directed by Lenny Abrahamson. He also starred alongside Oscar nominee Ruth Negga, in Ciaran O'Connor's movie Trafficked. In the 200s, Paul wrote and starred in the sketch series STEW for RTE, which scooped both the Irish Film and Television Award (IFTA) and the Celtic Film and Television Award, for Best TV Comedy.
"STEW offers a substantial repast for starving Irish comedy fans. By crediting its audience with working brains, it carves out the freedom to play for bigger and better laughs"
Liam Fay, Sunday Times                                   
THEATRE:
In 2009, Paul starred as Danesh, the Deli Owner, in Focus Theatre's production of Mike Poblete's acclaimed play The New York Monologues
In 2003, Paul starred in Barabbas Theatre Company's Hurl, by Charlie O'Neill, in Galway's Blackbox, and Dublin's Tivoli theatre.
"A winning performance" according to The Irish Times      
MORE ON COMEDY SHOWHOUSE
It started with a one-off half-hour panel show Don't Quote Me! hosted by Sean Hughes for Xmas 2015. Realising that radio is such a brilliant medium for comedy, Sideline's Billy McGrath and RTE Radio's Ann-Marie Power developed a much more ambitious idea to stage a live week of events with the best Irish comedy writers and performers around. With the support of The Broadcast Authority of Ireland (and the TV licence fee) and new comedy website grintage.com, the 1st Irish radio comedy festival took place in early 2016.
Each week produced 16 or 18 half hour original Irish shows for RTE Radio 1. By May 5th 2018, there will have been nearly 60 new Irish radio comedy shows produced and recorded for RTE Radio 1.
ARCHIVE – all available on grintage.com as podcasts
In 2017 Comedy Showhouse featured … Fred Cooke, Caitriona Ennis, Tara Flynn, Rose Henderson, Sean Hughes, Chris Kent, Fiona Looney, Katherine Lynch, Andrew Maxwell, Colum McDonnell, Barry Murphy, Colin Murphy, Stefanie Pressneir, Deirdre O'Kane, Colm O'Regan, Jarlath Regan, Owen Roe, Joe Rooney, Karl Spain, Alison Spittle, Eleanor Tiernan, Brona C. Titley, Paul Tylak, Paul Woodful & more.
2016's programme included … Al Porter, The Nualas, Seán Hughes, Andrew Maxwell, Deirdre O'Kane, Karl Spain, Maxine Jones, Gearóid Farrelly, Amy Huberman, Aindrias De Staic, Foil Arms & Hog, Fiona Looney and Colm O'Regan.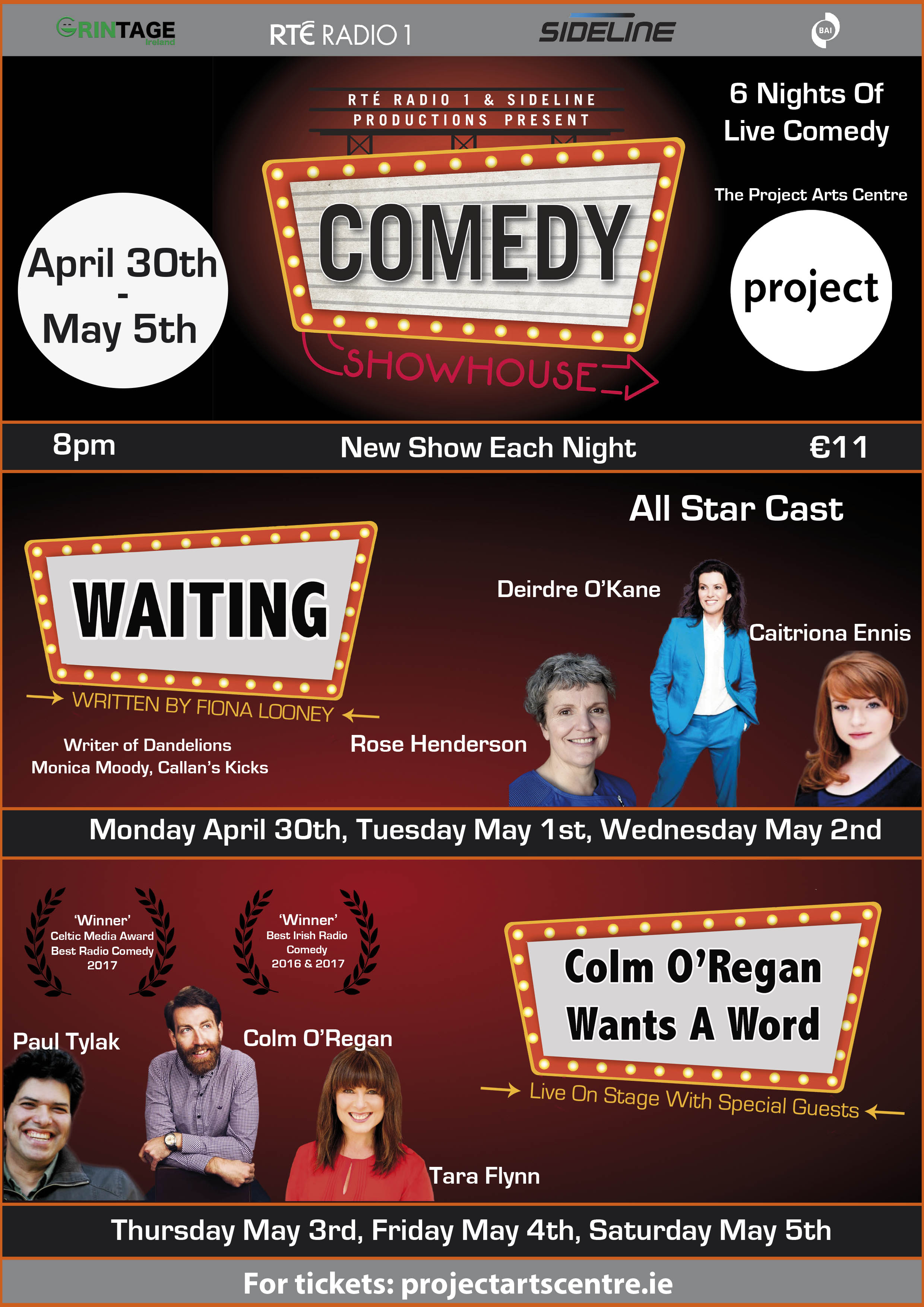 ABOUT SIDELINE PRODUCTIONS
Sideline has produced some of the biggest entertainment shows in Ireland including Family Fortunes, Class Act, Take Me Out, Mastermind and The Great Irish Bake Off. Comedy-wise, Sideline produced The Liffey Laugh stand up series for RTE 2 and The Rubberbandits for Channel 4. Sideline's comedy division developed a host of new writers leading to development deals with Foil, Arms and Hog (BBC Comedy) and interest in new Irish sitcoms with Comedy Central, CBBC, ITV and SKY.
Sideline's TV series has also gone global – Secrets of Great British Castles for Channel 5 in the UK has been shown on PBS USA, ABC Australia plus translated into over 30 languages for Netflix in 130 territories worldwide.
Sideline recently produced rugby entertainment series TV3's CLUBHOUSE (hosted by Mario Rosenstock and Donncha O'Callaghan) and their new social history series REVOLTING IRELAND with Simon Delaney airs later in 2018.
Comedy Showhouse is Sideline's first ever radio series and due to its success is now Ireland's biggest independent radio producer. More at www.sideline.ie
ABOUT grintageireland.com
Ireland's first website dedicated to the world of Irish and international comedy is only two years old and performing way ahead of expectations.